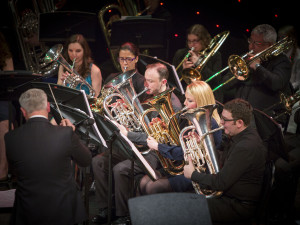 We had a fabulous concert at The Capstone Theatre on the 12th December with our special guest singers Bishop Eton Choir, Kelsey Walsh and our very own Francesca.
It was a real atmospheric Christmas feeling with a fabulous audience which made it even more special. The choir were to their usual high standard with amazing song pieces. The Band and Choir joint pieces went down a treat with so much excitement with the specially arranged pieces from Frozen featuring the Band, Choir, Kelsey and Francesca. The evening ended with a wonderful finale with Kelsey Walsh and the Band with the audience and choir participation. To cap it all a wonderful standing ovation. What more can we ask.
Thank you one and all to the performers and amazing audience. For those of you who couldn't make it, you missed out!!! But fear not as we have uploaded recordings from the night.

Be sure also to check out some of the hilarious pictures…