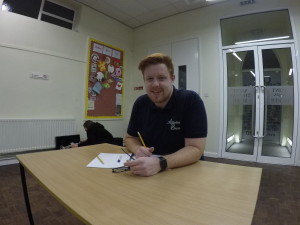 Winner of the prestigious 2012 Brass in Concert 'Best New Composition' award, Adam Taylor is a musician with a passion for brass, orchestral and vocal music – as a performer, conductor, educator, composer, and arranger.
A trombonist by training, Adam studied at the Junior Royal Northern College of Music in Manchester and later as a Foundation Scholar at the Royal College of Music, London. Adam has performed with orchestras such as the Royal Liverpool Philharmonic Orchestra (RLPO), Northern Ballet, English National Opera (ENO) and Southbank Sinfonia; as well as with multiple other chamber ensembles, brass bands, show bands and jazz ensembles.
As a teenager, Adam enjoyed listening to – and notating by ear – his favourite music for school and college ensembles. This led to a life's passion for arranging and composition. Despite no formal training in the practice, Adam has begun to cement himself as a rising talent in new brass music.
Adam's work has been heard across the brass playing world on concert and contest stages, on CD, radio, and television. A recent highlight includes a fanfare commissioned to open the 2019 Walker Cup golf tournament – played by the brass of the Royal Liverpool Philharmonic Orchestra (with Adam playing too!). 
Adam is composer in residence at the world famous Wingates Band and at the Haydock Band. In 2017 Adam helped launch a new publishing company, 'Cantatio Publishing' along with his good friend and business partner, Mark Quinn.
With a wealth of brass playing, teaching and conducting experience behind him, Adam took up the baton at Allerton Brass in Liverpool as Music Director in February 2017. Since taking up post, Adam has helped guide the band to 2 national finals and multiple podium places, taking them from the fourth section of the brass band national 'league' to second section. In 2018, Adam was appointed Associate Conductor at the championship section band Wingates, based in Bolton.
For both performers and audiences alike, Adam believes music is one of life's most valuable treasures. He has a passion for communicating his own love for music and a humble approach to teaching and sharing.