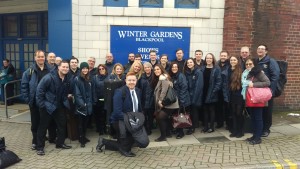 Yesterday, on Sunday 26th February 2017, the band took part in it's first ever major Brass Band contest, the North West Area.  Off draw 13, the band went on to play a superb performance of St. Andrew's Variations by Alan Fernie and we are very pleased to announce that we came 2nd out of 17 bands in the Fourth Section!
We were very happy with our performance, and this was backed up not only by the adjudicators comments, but those who listened on which also included great write ups from websites such as 4barsrest, all4Brass and the British Bandsman's Magazine; as well as other bandsmen who were listening on the day.
We are now putting plans together to enter the National Finals in Cheltenham later in the year, whilst our next outing will be our Rock of Ages concert at the Capstone Theatre on 13th May.
Please see our Events section to find out more information on how to get tickets whilst you still can!
Mike Jackson,
Band Manager